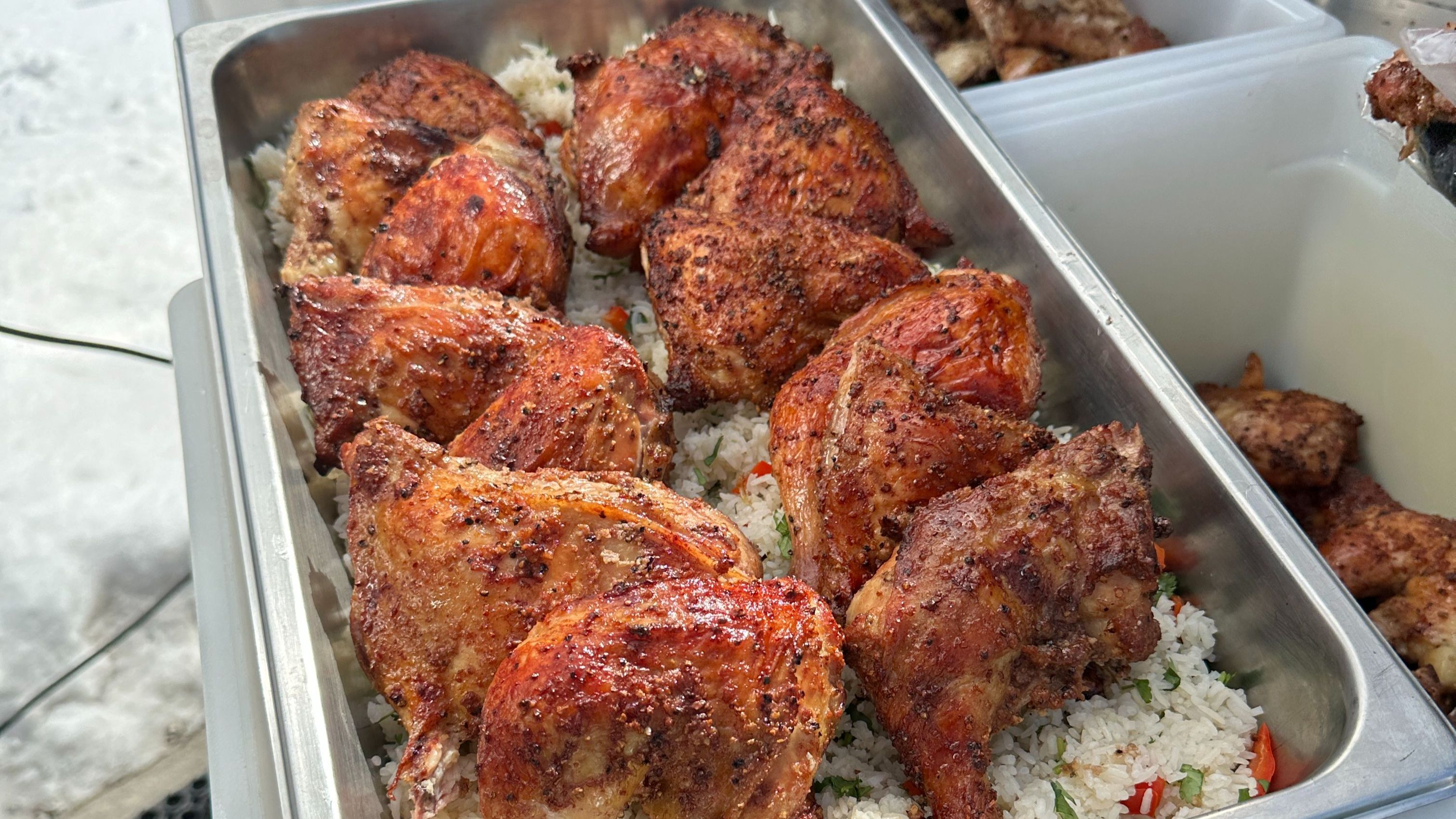 Hi guys and Happy Friday!
I have good news!
Last Wednesday, we received the final government approval to start cooking in our new kitchen. :)
We immediately fired up the smokers and started cooking.
Today, I'll share the latest with you and hope that you will support Ice Age Meals in this next chapter.
If you liked our food before, just wait till you try the new stuff!
(Above is the tray of Lemon Pepper Chicken we brought to our neighbors. Below is the team mixing it up. We now add a hint of smoke to the chicken and have changed all of our rice to Jasmine.)
It's been five months and one day since we announced we were closing our kitchen.
When we made the announcement, we did not know what the future held, but do we ever really?
I was watching the new episode of Ted Lasso last night and Ted's therapist shared this quote:
"Doubt can only be removed by action."
We doubted we could make it another year with out a change, so we took action and the most beautiful things have come from it.
I always had the dream of operating everything under one roof and here we are!
(Below the team stocks up our brisket meals. We now trim an extra bit of fat. Look at that bark!)
Our new scaled back approach is allowing us to do three things:
Slow down and enjoy the process, lending an extra layer of love to the food. We discuss each step as a team, we taste as a team and we make positive changes as a team.
Focus on one meal at a time.

We used to have 3-5 different meals in production at any given time. That's no longer the case. It's easier to spin only one plate... (get it?)
Deliver the best value to our customers.

With pared back overhead, there are less costs folded into the price of our meals. A better product at a lower price is a win-win, no?
What's On The Menu?
Good question.
Our menu is now more exclusive. We will start with the our most popular meals and work from there.
This is all new territory, so we will adjust as we proceed and will update you as we go.
These are our top 12 meals and our starting menu:
Barbacoa with Rice

(Back in stock!)
Lemon Pepper Chicken

(Back in stock!)
Butternut Squash Lasagna - Beef
Pork Carnitas with Rice
Elk Shepherd's Pie (We will cook next week!)
Brisket with Rice

(Back in stock!)
Brisket with Purple Sweets

(Back in stock!)
Huli Huli Chicken with Sweets
Chipotle Turkey Chili
Barbacoa with Squash
Fajita Pie
Smoked Burger with Sweets (NEW! - in the smoker right now)*
Smoked Burger with Rice (NEW! - in the smoker right now)*
*While we as a team enjoy the Ga Ga Garlic Fries, they get mixed reviews, so we are removing them.
Thank you for following along and helping me realize my dreams.
There's so much more I'd like to share, but I'm getting the reputation for being long-winded... :)
This morning in my quiet time, I read, "It requires a conscious decision and effort to keep our primary goal constantly in front of us... I must learn to relate everything to the primary goal, maintaining it without interruption."
The reason Ice Age Meals exists is to change the food landscape in the USA and beyond. We aim to combat the obesity epidemic and to help people EAT BETTER. LIVE LONGER.
It's always a wild ride, but I'm convinced more than ever that this is what I was made to do.
Would you consider supporting us today? We've got all the goodies back in stock and your order would help us take the next step.
Thanks again for your time and remember to... "Keep It Paleo!"
Your Pal,
Paleo Nick
PS: Speaking of taking the next step, who's ready for the...