4 Minute Read
Hello Everyone,
This is Paleo Nick writing to you on the first day of 2023!
My passion is to change the nutrition landscape in the USA and beyond by creating resources that will help you thrive.
If "Big Food" is on one side of the spectrum, consider Ice Age Culinary "Small Food" way over on the other side.
It's been a 25 year journey to get here and I am as enthusiastic as ever to teach you:
What eating clean looks like.
How to cook healthy food that tastes great.
That much of your mood and behavior is tied to the food you eat.
I am a student of the positive thinking movement and I want to encourage you in all aspects of your life.
From 2012 - 2017, I wrote 555 blog posts at PaleoNick.com (385 of them included instructional cooking videos).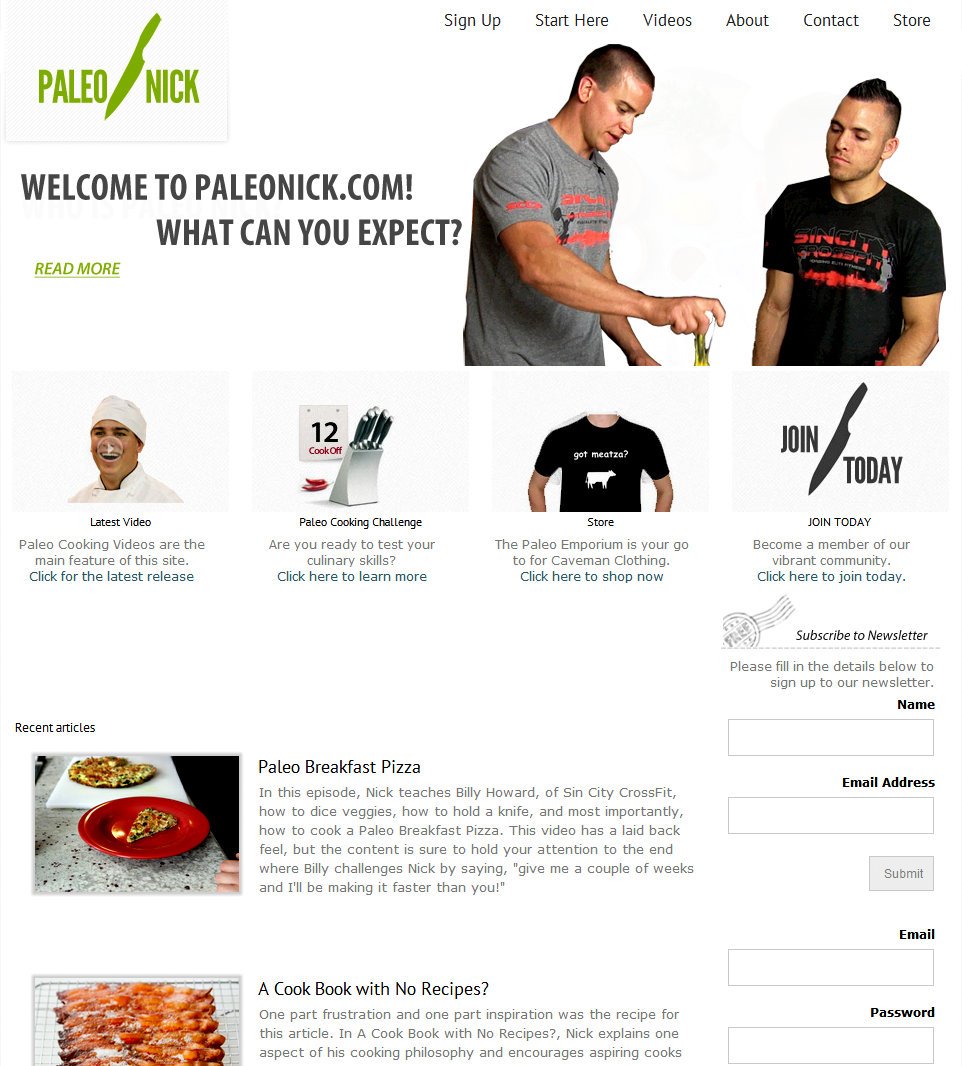 (PaleoNick.com as it appeared on launch day, June 1, 2012)
In 2015, I launched Ice Age Meals and have been providing hearty portions of healthy meals delivered-to-your-door for the past eight years. It's small batch cooking from scratch and we've developed over 40 menu items that are available to order today.
As Ice Age Meals grew, PaleoNick.com was eventually put on the back burner and then frozen itself. While I've had the burning desire to produce content, the time demands of a food manufacturing company took priority and we eventually shut down PaleoNick.com.
Through the many messages, comments and emails that my original followers would send, I mustered the discipline to carve out time and produce Ice Age Culinary.
It's the latest evolution of my aim:
To debunk the myths you've been fed about nutrition,
And show you the truth about food is my mission.
With so much noise in the nutrition space and virtually no formal education on how to cook a proper meal, I've developed my 21-Day Culinary Challenge. The goal is to show you, in real time, how I cook 6-10 portions of food from my home kitchen.
All meals are:
Gluten-Free
Sugar-Free
Dairy-Free (with the exception of occasional raw cheese and grass fed butter)
Grain-Free (except for rice)
Chemical-Free
Based on a 6-8oz. portion of protein.
I use organic ingredients whenever possible and I make sure that all meals taste amazing!
We are starting with 21 recipes and I cook them all in 21 minutes or less. While we will publish the videos over the next 21 days, you can follow along at whatever pace fits your lifestyle.
We provide a weekly shopping list that includes all ingredients for seven days, as well as a blank shopping list so that you can customize your menu.
Even if you cooked one meal per week, your diet would be transformed. These are meals that you'll cook for the rest of your life.
I could go on an on about Big Ag and Big Pharma, about how the cigarette companies bought General Foods and Kraft in the '80s and started using their tactics to promote garbage food to my generation, about how the year I was born, they deemed ketchup a vegetable so that Heinz could begin pumping corn syrup into our public schools for profit. But I won't. We've got years to discuss that stuff and I hope you'll follow along.
So today, I'm excited. Excited to fight back with flavorful food that will help you EAT BETTER. LIVE LONGER. Healthy food tastes great with a hot pan and some basic culinary principles.
I'll also teach you my five foundational concepts of the kitchen as we go. Not through lectures and lists, but by showing you how they actually play out in real time in my home kitchen.
So come with me, and the goods you will witness.
Let Paleo Nick be your guide to culinary fitness.
Your Pal,
Paleo Nick
PS: If you sign up today, we are throwing in a free IAC Apron!!!
*Apron offer valid for 50 US States Only. Outside of USA, we will provide the free apron, but customer will be responsible for shipping costs.